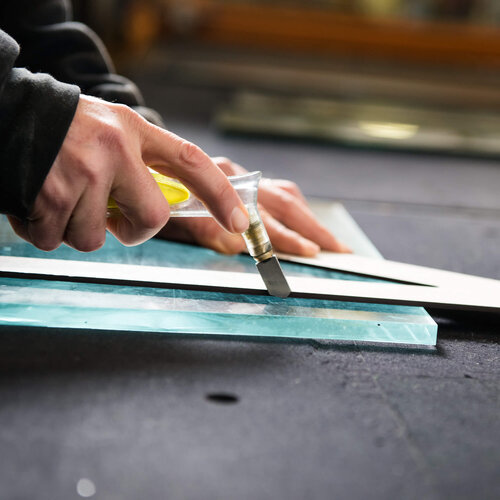 Cutting
Our cutting bench can cut glass sheets up to 6x3,21 meters and from a thickness of 2 mm up to 25 mm.
From this proceeding we obtain the little pieces of glass which compose the final product.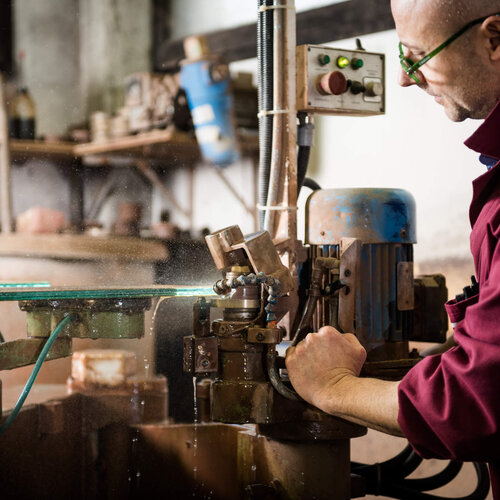 Manual Grinding
Processing carried out manually by the worker by using the grinding machine. The sheet of glass is smoothened and polished removing the cutting. All of this while preserving the ancient glass shop traditions.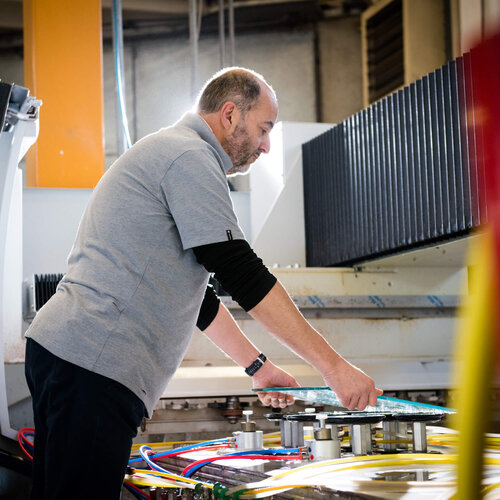 CNC Grinding
In order to satisfy the multiple market requests we use computerized numerical control machines (CNC), which allow us to obtain the maximum measure precision and to realize drill, notches and loops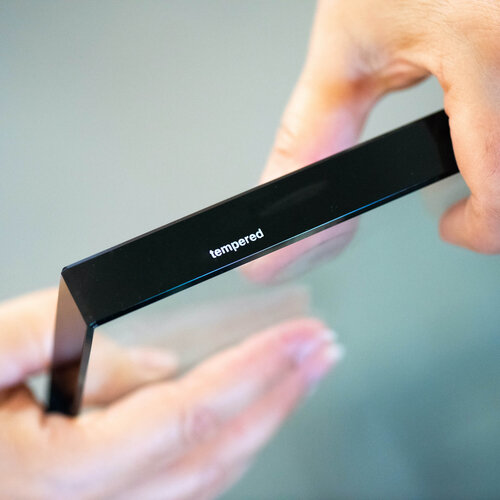 Tempering
Tempering strengthens glass and makes it more resistant and safer.
Thanks to the collaboration with companies specialized into this field we can supply tempered glass items.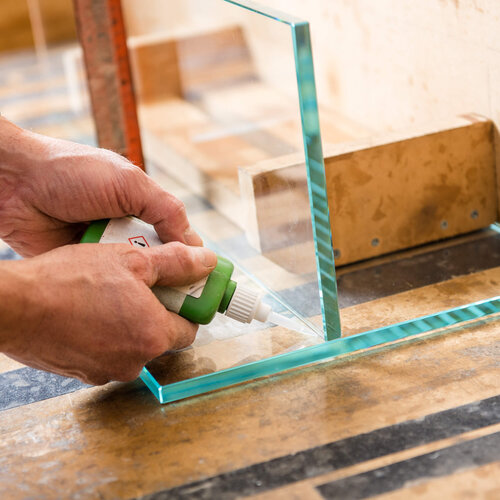 Glass Bonding
Our specialization. Through special bonding products, polymerized with UV rays, we can bond glass on glass, glass on steel, glass on wood to create innovative pieces of furniture.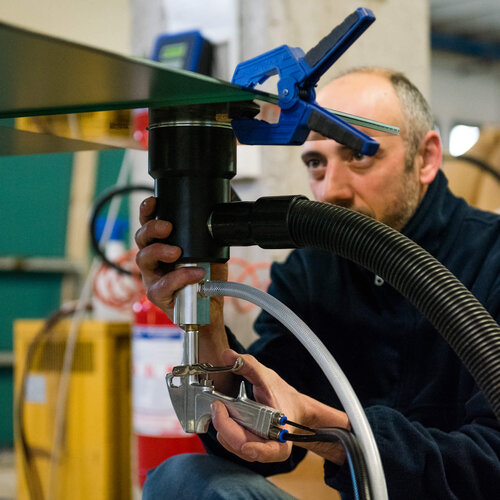 Sandblasting
Sandblasting processing consists in submitting the glass plate to the abrasive action of sand, which is projected on the sheet of glass by an air blast. Thanks to this it will become opalescent.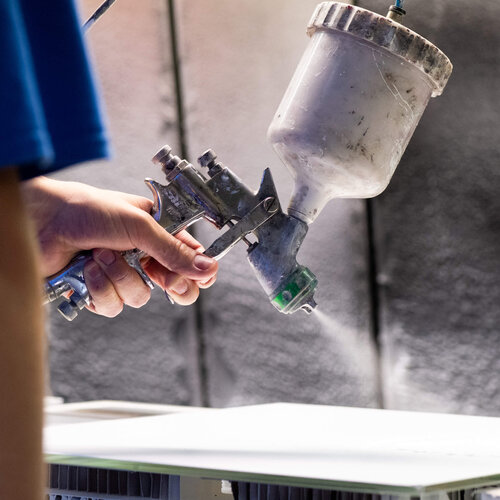 Painting
In order to color our works we cold lacquering through spray painting technique, using water based paint, which allows us to paint the sheet of glass with all of the colors belonging to the RAL palette.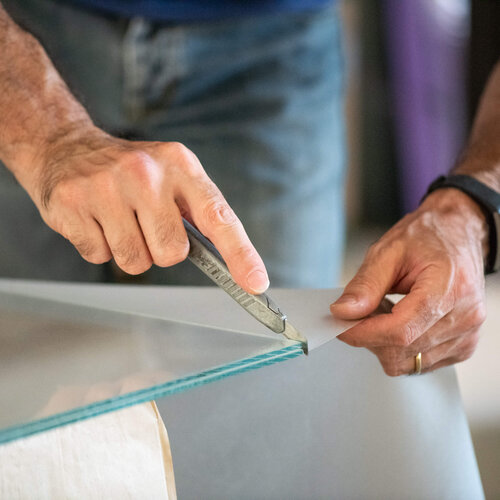 Lamination
Lamination proceeding allows us to join two or more glass sheets inserting colored or transparent films between them, to realize glass for pieces of furniture or building purposes up to a size of 550x260 cm.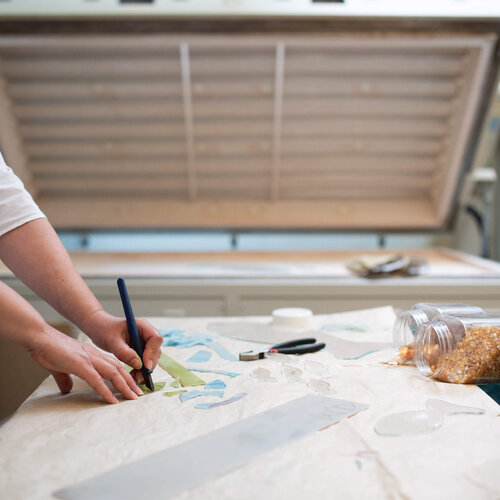 Fused Glass
Secondary proceeding which consists of a fusion at 900° inside specific furnaces. Thanks to glass fusion we can realize decorative details for doors, mirrors and pieces of furniture.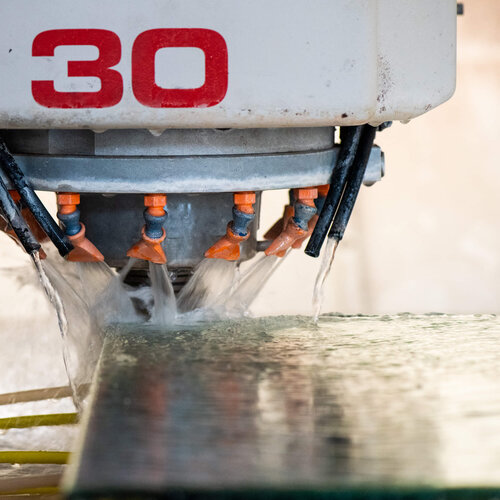 Machines are important for hard works, but inside our company manual skills and art belonging to real master craftsmen will never be overshadowed.
Craftsmanship60%

Use of machinery40%

Control and supervision100%
Vetroerre's products arise from a careful and accurate engineering by our technical department. Through an in-depth study of raw materials and a constant research for new working techniques, Vetroerre creates special and groundbreaking prototypes that make glass the undisputed protagonist of your furniture.
Choosing the raw materials is one of the most fundamental tasks into the manufacturing process, since we want to maintain a very high quality standard. The materials we select come from all around Europe and thanks to the wide color range that we are able to offer, it is possible to create many color combinations.
We try to transform your idea into a unique and customized product. Once selected the material, the project realization begins, starting by the cutting of a big sheet of glass, from which derive all of the pieces that will compose the final product.The following proceedings can vary based on the requested item, but our specialty is UV bonding.
Eventually, before delivering the our products, a careful control of each and every detail will take place in order to verify that all of the proceedings have been carried out to perfection and that the final product matches the Vetroerre's style.